How far along are you?
38 weeks!
How are you feeling?
Like I'm holding a bowling ball in-between my legs…cooonnnnnnstantly.
Any weight gain?
0 pounds this week keeping me at 143 pds.
New symptoms?
Lot's going on the symptoms zone…
For starters, I have had this incessant ringing in both of my ears. I've seen three different doctors about it and they all have different opinions! It's pretty annoying and occasionally one ear will ring really really loudly, almost like when you walk in front of a speaker with a microphone in your hand. Yah – not fun. Don't know if it's related to pregnancy at all but one of the docs suggested it's because of the excess blood volume right now and that it would go away after baby is born. Strange strange strange.
Hot flashes! I had a 'sweep' a few days ago and afterward I was getting moments (up to a minute or so) all day long of these hot flashes.
I've been having minor contractions and lot's of back labour (which I've never experienced before). Not super fun – especially when there isn't any other action happening.
Finally, I've had a slight linea nigra (pregnancy line) begin to appear on my belly. It's very faint but it's definitely showing! Belly button still hasn't popped funny enough. I definitely thought it would be out by now.
General mood?
EXCITED!!!
Gender?
IT'S A BOY!!!!!!!!
We are so thrilled to FINALLY be able to announce it. It was a secret that was eating me up a little – I have to be honest. When we found out (many months ago) Nate and I hugged a ton and we both cried. Mostly because his entire side of his family has girls. Girls, girls girls (and they are all such sweethearts), but William was the first boy and then there were a few more girls born and I think we were all wondering if Will would be the one and only Weiland boy.
Also, Nate has grown up with a ton of girls in his household. Sisters and cousins and all of their little girl friends have without a doubt help mold him into the rockstar man that he is today – but to be able to have a second son just hit him really hard and when I saw that he was very emotion about it, I too got really emotional.
To tell him about the gender, I bought this painting with one massive sailboat in the centre and two smaller ones alongside it – very symbolic.  xoxo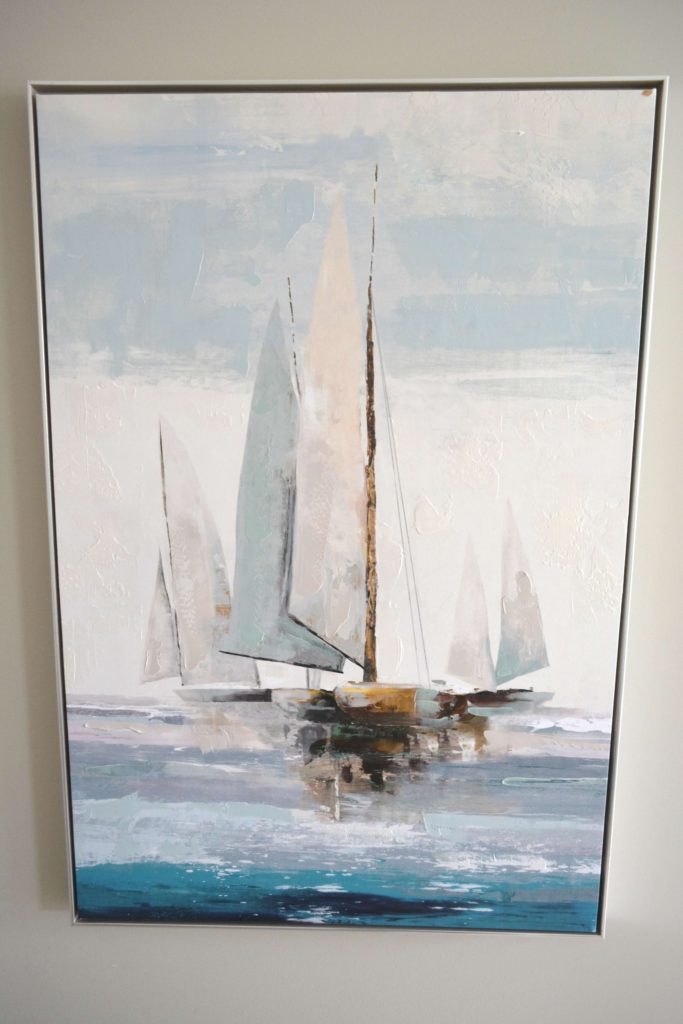 We have it hanging in our bedroom and I was basically bawling when he saw it and opened it.
Scarlet was surprisingly good about the fact that it was another brother. She didn't cry or complain (hopefully because I kept prepping her with the fact that we don't get to choose if it's a boy or girl – it's a surprise either way) and I told her maybe next time she might have a sister 😉 She's just really pumped about the fact that there will be a baby in the house.
Food Cravings?
Chocolate after meals.
 Do you miss anything?
Not really this week. I feel like we're so close that it's only a matter of time before I'll be feeling back to normal.
Sleep?
Has been on and off. Some nights I'm just totally out and other nights I'm tossing and turning trying to get comfortable. My mind is racing and I'm thinking of the labour/delivery and it gets into a bit of a spiral; but, we're so close. I'm just looking forward to moving into the next 'NEWBORN' chapter.
Working out?
Yoga and walking occasionally.
Best moment this week?
Hearing that I'm 3cm dilated! Like WHAAAAAAAAAAAT?!
Also, we had another date night (thank you to my Mother-in-law for encouraging us to get out of the house again this week and babysitting). We went for dinner and laughed so hard. It's sooooo nice being able to get these weekly nights with him alone because I know they will be few and far between when baby boy arrives.
What are you excited about?
We're moving forward with building a home!!! We need the space/bedrooms and we found a really nice lot that is consider 'lake front' on the beach – even though the water is a fair distance from our backyard. We're sooooooooo pumped to be able to build because we can pick and choose the style and finishings that we want as well as the layout, colours etc. It's just the right fit and step for us at this point. Definitely not our forever home, but a nice move in the next direction!
LUVS,
Kate
xoxo