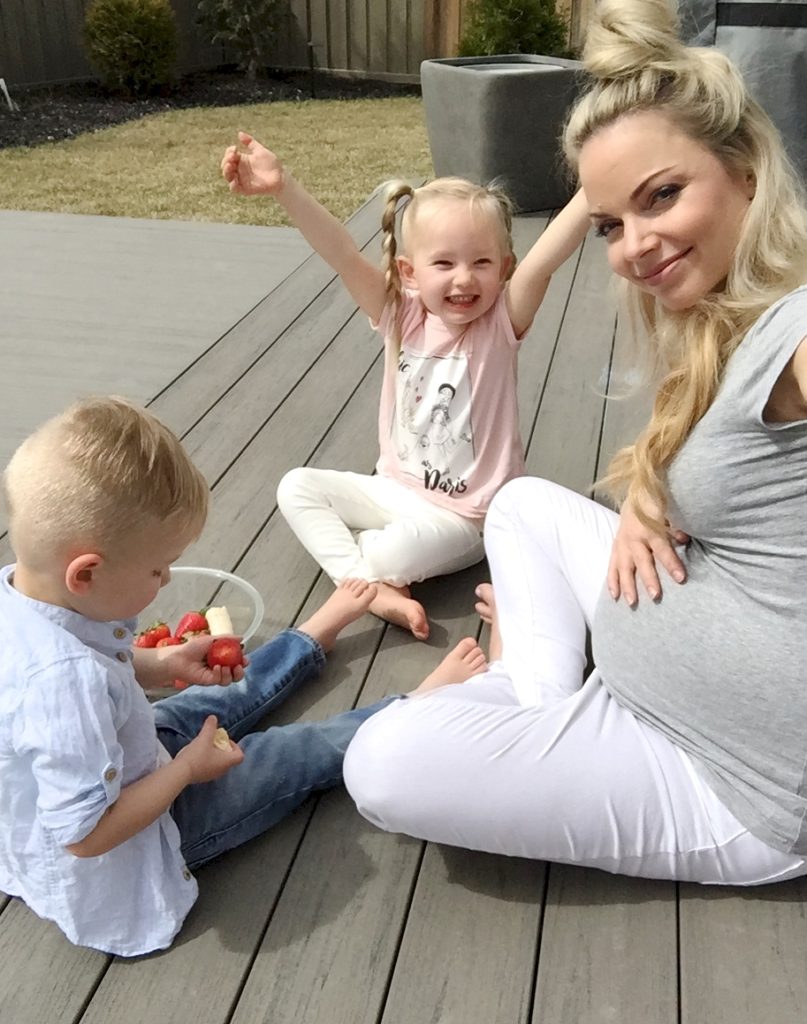 How far along are you?
37 weeks
How are you feeling?
Ready to have a baby!!!
Any weight gain? 
1 pound this week putting me at 143 pds.
New symptoms?
I'm nesting like CRAZY! It's hilarious. I'm normally a very clean person but I've really noticed this week that it's been verging on overboard. It's funny though because Nate is too. Moving things around and getting rid of garbage and old junky toys. It's been awesome – the house hasn't looked so good in a while.
General mood?
I'm so many moods at various times throughout the day. Happy, anxious, scared, excited, etc. I'm basically a massive rollercoaster of ups and downs.
Gender?
Ok – we're dying to reveal at this point but there have been a few hold-ups. I had a really fun idea for a picture that I wanted to try – especially since we did fun pics for both Scarlet and Will, but a few of the 'elements' that I ordered online have taken SOOO long to arrive it's held everything up. Now I'm wondering if baby is going to come before we get a chance to reveal! HAHA! BUT, my brother Paul and his wife Marian just revealed that they are having a baby girl in Sept so that's a little mini reveal for you there…
Food Cravings?
No – nothing really except for chocolate.
 Do you miss anything?
Not really this week. I feel like we're so close that it's only a matter of time before I'll be feeling back to normal.
Sleep?
Has been pretty good – can't complain too much. Considering the size of my body, I'm surprised to be getting any at all.
Working out?
Just the regular – yoga and stretching
Best moment this week?
Date night with Nate (we went for dinner) and seeing our baby on the scanner at my docs office. She said that babe is 'engaged' and possibly ready to roll anytime now. The head was soooooo far down – it had me wondering if delivery might be much sooner than expected.
What are you excited about?
I'm excited about my sister-in-law's new baby girl that she delivered on May 6th!!! She named her Bellamy Kate Hoyda!!!! She is gorgeous and both mommy and baby are doing really well. YAYYYYYYYY!!! Also, that means we're NEXT!
Happy Monday!
LUVS,
Kate
xoxo