How far along are you?
35 weeks
How are you feeling?
Stuffed up – again. This is week 6/7 of this cold. ER MAH GERD…
Any weight gain? 
1 pound this week putting me at 140 pds. Apparently baby is gaining lots of weight in these last few weeks so I suspect it will really creep up haha!
New symptoms?
I wonder if pregnancy congestion is also to blame for my stuffy nose? Not totally sure but if anyone has any suggestions I fully welcome them!
My lower back is killing me and my hands and feet have really started two swell up. It comes on strong at nighttime and they seem to shrink back during the day.
General mood?
I'm getting excited. I'm so thrilled I'm still a good candidate for a VBAC but it does make me a little nervous. I'm really just going to go in with an open mind.
Gender?
A few plans are in the making for a gender reveal but we'll see how I feel. Energy is dwindling as I get closer to the due date. Running around after two toddlers while being pregnant is NO joke…
Cravings?
Nothing really this week.
 Do you miss anything?
I can't wait to have a white wine spritzer in our sunny backyard on our deck. O. M. G
Sleep?
The size of my bump is making sleep uncomfortable. Rolling from side to side isn't easy at all.
Working out?
Yoga and stretching while watching tv at night.
Best moment this week?
Going out for dinner with our friends (we went to the restaurant Foreign Concept) and then running into two former students! Amazing. We also had some professional photos done this weekend with one of my girlfriends from high school. I was so tired I almost cancelled but I'm so happy that I didn't do that. I would have been so upset because I didn't get maternity shots with either one of the other pregnancies! They turned out so LOVELY and I'll definitely share a few of them.
What are you excited about?
We're going for brunch this weekend and I'm already looking forward to that – we haven't seen these friends in forever.
Also, I posted my very first IG stories/video EVER and holy crap it was stressful for me!!! I did a Mom Crush Monday – but it took me a solid hour to figure it out!!! I'm so technology UN-savvy. I promised myself (and Nate because he is so encouraging and supportive) that if I got to 100K on IG I would strongly consider a #YouTube channel. The thing is, now that I'm at 95K I'm chickening out again and I keep deleting and blocking people who are following so I don't get to 100K !!!!! HOW AWFUL IS THAT?!?!?! Gosh. In my defence – they are the ghost followers (no profile pic, zero posts, zero followers, never interact or like – just 'watch from a far' and may even be following five million people) so I don't feel THAT badly about it, but man! Why do I have such an resistance to video? Makes me laugh.
Hope you guys have a great week ahead and I'd love to hear any thoughts or suggestions on this dang cold!
LUVS,
Kate
xoxo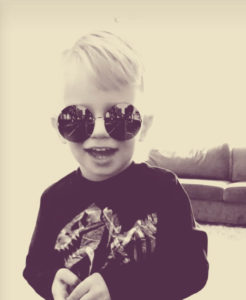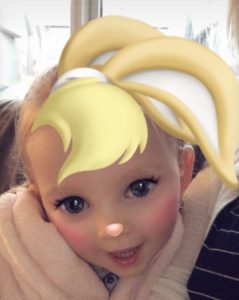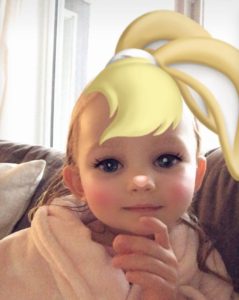 #snapchatfilters #babsbunny #scarletweiland #williamweiland