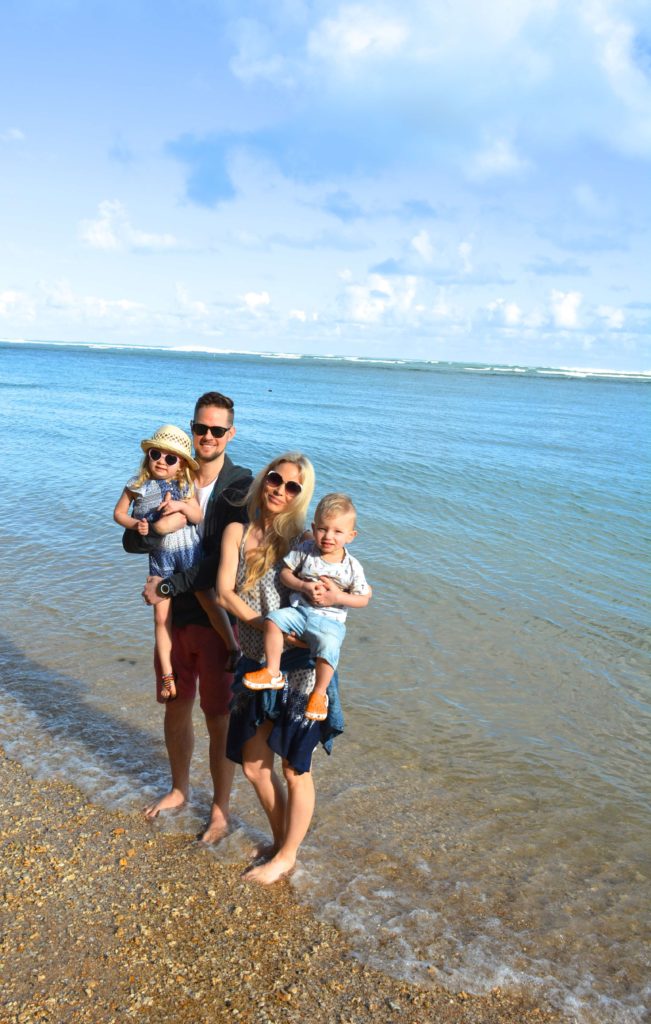 This shot was taken by a really nice man on the beach – he could (clearly) see that I was expecting and having a bit of a hard time getting a snap of the four of us and so he offered.  I thought I heard the camera snapping away like crazy so in my head I was like 'YAY!  SOOOO many options to pick from', but after getting my camera back – this was the one and only one he took.  HAHAHAHA!  Too funny.  I still love it though.
How far along are you? 23 weeks!!!
How are you feeling?
Super happy to be on vacation. Even though it's been a bit chaotic with the flights and the time zone change it's just absolutely worth it. Kauai is my favourite place on earth.
Any weight gain? 
We don't have a scale in our rental home so I'm not totally sure.
New symptoms?
A bit of swelling in my hand and feet, but nothing too serious.
General mood?
I'm 99% happy! The only thing that could make this vacay just a bit better is having a glass of vino here and there.
Gender?
Blue? Pink? The game is still going strong. It's nice having a special secret between the two of us.  Our siblings are all in on it too which makes it extra exciting.
Cravings?
Pineapple. I swear I eat it at every meal in some form or another. I have it cut up for a snack, I eat it in my oatmeal, I have it on my pizza. We went out for burgers yesterday and they grilled some and topped off my burger with it!
 Do you miss anything?
This week – wine.
Sleep?
Has been great!
Working out?
Just walking around Hanalei town and daily beach treks.
Best moment this week?
We we woke up to the view in our home. Because we arrived late at night it was really dark and rainy. We couldn't really see anything, so when we woke up to bright greens and blues and exotic plants and flowers everywhere, we just went crazy with excitement.
What are you excited about?
More beach time!!!
LUVS,
Kate
xoxo